Bestowed with nature's beauty, 'The Queen of Hills', Shimla, is a traveler's paradise. Set up by the Britishers, the hill station is now a unique blend of the old and the new. With the town being the most sought-after tourist destination, it houses a host of cafes that are a must-visit, the next time you are in Shimla.
1.
Wake And Bake – Shimla
Popularly known as a Central Perk of Shimla, this blue building with yellow windows had to top the list as this Cafe has lot to offer to its visitors. The warm and cozy ambience, friendly staff and positive vibe that this place holds is very inviting.It is located on the 2nd floor of a building at Mall Road and overlooks the Town Hall on one side and the valley on the other.It provides you a variety of cuisine to choose from such as European, Chinese Mexican, and Tibetan. The menu here is well suited for the foreigners. Popular dishes here are Chicken Fruit Salad,  Herb Chicken,Apple Cinnamon Waffles with Maple Syrup, &Mushroom which is a must try. If you want to experiment, the café also offers a variety of dishes from the Middle East such as –Hummus, Falafel, and Pita.
2.
Café Sol
Located on the Mall Road this place has such a captivating aura that you can't just visit it once. This café brings you food from around the world and I bet deciding would be a tough choice. The place is famous for its authentic Prawn made with hot Garlic and Herb Sauce. Must-try at Café Sol are the Greek Salad Turkish Pita, Vienna Espresso,Heavenly Donuts, Lemon Cheesecakes, interestingly done Pizzas, Mexican food and more.The café even has a small cake corner where you can satisfy you craving for some sweets.
3.
Hide-out Cafe
Relatively new, the cafe is really popular in the Hill Town due to its interesting menu. Most popular dishes among the visitors are the Manchurian and Fried Rice. Other dishes such as Chicken Rolls, Egg Wraps, Pastas, and Garlic Bread will definitely satiate your taste buds. For the sweet-tooth, the Doughnuts- both Chocolate and plain- are a must-try.  If you plan to have an early breakfast, the cafe offers a platter consisting of Grilled Toasts,Omelets, a dip, a Cutlet and roasted Tomatoes.
The ambiance is simple and cozy. But don't go by the looks,because when it comes to the food, it will amaze you. The cafe also serves savoring Chinese and Pasta, but with an Indian twist.  It's a good place to grab a quick snack and spend some quality time with your friends.
4.
 Honey Hut
I bet Baloo from The Jungle book would have loved to be at Honey Hut because they serve the one thing he craves;yes you guessed it right it's Honey! The USP of this place is that it serves everything made of honey: Honey flavored Cakes, Pasties and Beverages. Honey Hut uses pure Honey, which is cultivated locally by the hut's own veteran beekeepers. If you want to try something new, they even offer Honey-based eatables such as, Chocolates, Cakes, Honey Tea, Honey Coffee and even Honey-flavored Popcorns. And if you are into homemade organic products, the shop also sells honey-infused artisan soaps, lip balms, and Chocolate. My suggestion: Try their Milky Coffee topped with Honey, you'll simply love it!
5.
Cafe Shimla Times
Stylish Chi-look of the cafe is perfect for the evening with your family and friends. This cafe is a must-must visit if you are in for a relaxing evening, enjoying a cup of Coffee looking at the mighty Himalayas soaked in music being played by a band. What else do you wish for! The view and the ambiance will surely captivate your heart and so will the food. Its Tiramisu, yummy wood-fired Pizza, is simply amazing- something that should not be missed! The other dishes, including Chinese and Thai food and home baked Bread are also a must-try.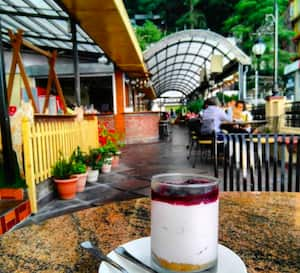 6.
Krishna Bakers
Don't go by its rustic look. Wait till you taste its famous Chicken Buns– the best in town (mouthful of soft, roasted and well-cooked chicken). And for the vegetarians, the eatery offers the veg version of the Bun.  Krishna Bakers is the oldest bakery in Shimla, best for a quick snack such as Spring Rolls, Momos, Pasta Roll, Cookies, Soups and Pastries.  If you are ever in the town, do try their Plum Cake.
7.
Devicos
Regarded as one of best restaurants in town, Devicos is one place you would want to visit with you family for a quality dinner. The interior, with a fusion of western and Rajasthani pattern, adds to the warmth of the place.
Devicos offer a variety of Cuisines -Mughlai, South Indian, Continental and Chinese. Its
Non-vegetarian food item is regarded to be the best. Their Keema Naan with gravy and Rogan Josh is something to die for!
8.
Aunty's Kitchen
Aunty's Kitchen is a well-known hangout spot, so much so that it's very difficult to get a seat here. One of the oldest eateries, Aunty's Kitchen serves the best Chinese in town. The eatery is quiet popular among the locals and if you are a food-lover and on a budget, this place is surely your destination. The menu is definitely confusing as you have to choose from plethora of Noodles, Fried rice, Momos and Gravies.
9.
Alfa restaurant
Small and cozy, Alfa Restaurant is situated at the crossing of The Mall Road and The Ridge, popularly known as the Scandal Point. Its strategic location makes it one of the most popular places in town.  You can enjoy the view of the bustling Mall Road from a huge glass window while having your food. The menu generally features Indian and Chinese cuisines.  If you are a hard-core non-vegetarian, do try their Tandoori Chicken, while the vegetarian should not miss their Malai Kofta.
10.
Beekays
Long before Domino's, Pizza Hut and KFC made their way into the town, Beekays was one place that offered quick snack and junk food.  Opened in the late 90's, this place is still very popular among the locals, especially the college-going students. Beekays has much to offer. Their Pasta, Salami Burgers, Tikka Burgers is something we bet you will never find anywhere else. Lately, they have added bakery items too.
11.
Indian Coffee House
If you are a vintage soul and enjoy the old-style coffee, where ambiance just adds to the taste, a visit to Indian Coffee Shimla is a must. It's a place that you certainly visit for the best flavors of the South Indian filter coffee. It offers you the most genuine smoothest filter coffee in the town. You will find here people who have been visiting this place for long.
12.
Embassy
One of the oldest coffee houses in Shimla, Embassy takes you back in time. The aura, the view and the feel of this place is an experience in itself as the walls of this Coffee-house are stuck with handwritten pamphlets and posters. Run by an old couple, this place is famous for its homemade Cookies Cake and Pastries. Our pick: their Coffee.
13.
Fascination Baljees
If you are down for some delicious Indian snack, the Baljees Fascination is your one-stop destination. Grab a quick bite of freshly made Desi Snacks including Samosas,French Fries, Paneer Pakoras, Cakes and Patties. We recommend you to try Veg Sizzler,  Butter Chicken and for the sweet tooth, Baljees G-Jams short for Gulab Jamun is a must try. What's better than enjoying hot Gulab Jamun in the cool and pleasant breeze of the hill town.
14.
Ashiana & Goofa
Your visit to Shimla is incomplete if you haven't tried the mouthwatering local delicacies of the hill state.  Ashiana and Goofa offer you authentic flavors of Himachali food at affordable prices. The local cuisines are not favoured but if you taste them once, you are surely to try them again.
15.
Sita Ram And Sons
Who doesn't relish the popular Indian delicacy Channa Bhaturas!And if you are a true fan of this utterly delicious and mouthwatering dish, you need to visit SitaRam and Sons, a local Dhaba selling the popular Indian street food from the last six generations. Such is the popularity of these Chana Bhaturas that Bollywood stars like Preity Zinta and Anupam Kher, who hail from Shimla, savour the dish.
16.
Kewalka Dhaba
Every place has a history and so does this age-old Kewalka Dhaba, located amidst the forest of this hill town. The small stall dates back to 1931. Such was the popularity of this dhaba that the then British Viceroy Lord Mountbatten was a regular visitor at this place. Nowadays, the stall, which only serves buttered bun and tea, is frequented by university students.
17.
Cecil Oberoi
Built in the 1884, Cecil, under the Shimla's luxurious Oberoi Luxury Hotel and Resort, will give you an experience of the lifetime. The restaurant, though a little heavy on the pocket, makes you relive the colonial era apart from the bird's eye view of the majestic landscape. Cecil offers a variety of Thai Curries and freshly baked Indian Breads that are treats for your taste buds in an ambiance marked by dark mahogany wall paneling and antique chandeliers.
18.
Bihari Lal Sharma Stall
Situated on the Jakhoo Road,Bihari Lal Sharma Stall has been around since 1948. It is the oldest fruit Chat seller in Shimla. You can savour a plate of fresh-cut fruits for Rs 30 and beat the summer as you begin a climb to the temple.
19.
Dimsum
As the name suggests, Dimsum specializes in Chinese cuisines. Located on the Mall Road, the quaint eatery serves some delectable Chinese food in Shimla. The Chicken Talumein Soup is simply lip-smacking. Other Chinese delicacies such Chicken Chowmein, Chicken Fried Rice (Rs. 142) are a must-try. Our pick are its juicy, succulent Dimsums simply made to perfection.
So whenever you are in the Queen of Hills, do experience for yourself the authentic taste this city has to offer.