Proteins contain bodybuilding components, like amino acids that help repair the wear
and tear of the body. Proteins act as muscle-building elements of our body. Hence, if your goal is to lose some weight and trim those tummy lines, you should include protein-rich foods in your diet.
Vegetarian protein sources are limited to dairy products, lentils, beans, and legumes.
That is why you must plan your diet to include these types of foods. Some protein-rich
foods that should be included in the diet are: dal or lentils, bean sprouts, chickpeas
(black and white), milk, curd, cheese, tofu, soybeans, nuts, whole grains, such as oatmeal, quinoa, dahlia, or shredded wheat, peanut butter, mushrooms, green beans, etc. So how can you incorporate these sources into your diet without making it seem bland and boring? Here are some tasty blends of greens that will make your mouth water and help you keep in shape:
1

  Palak Parantha
These parathas are made from whole wheat flour, besan, finely chopped spinach, carrots, called and green chili paste. All these ingredients are mixed into a dough, rolled, and cooked on a Tava. This recipe is kids-friendly and, can be made by using vegetables, dal, paneer, cheese, etc. as stuffing. The combination of palak and carrot not only makes the dish very attractive but very healthy too.
2

 Bananas And Peanut Butter
Slice up some bananas and place them on a plate. Take some peanut butter in a bowl or drizzle peanut butter over these slices of bananas and your protein-rich snack is ready. You can garnish it with some roasted nuts or peanuts to give that extra crunch.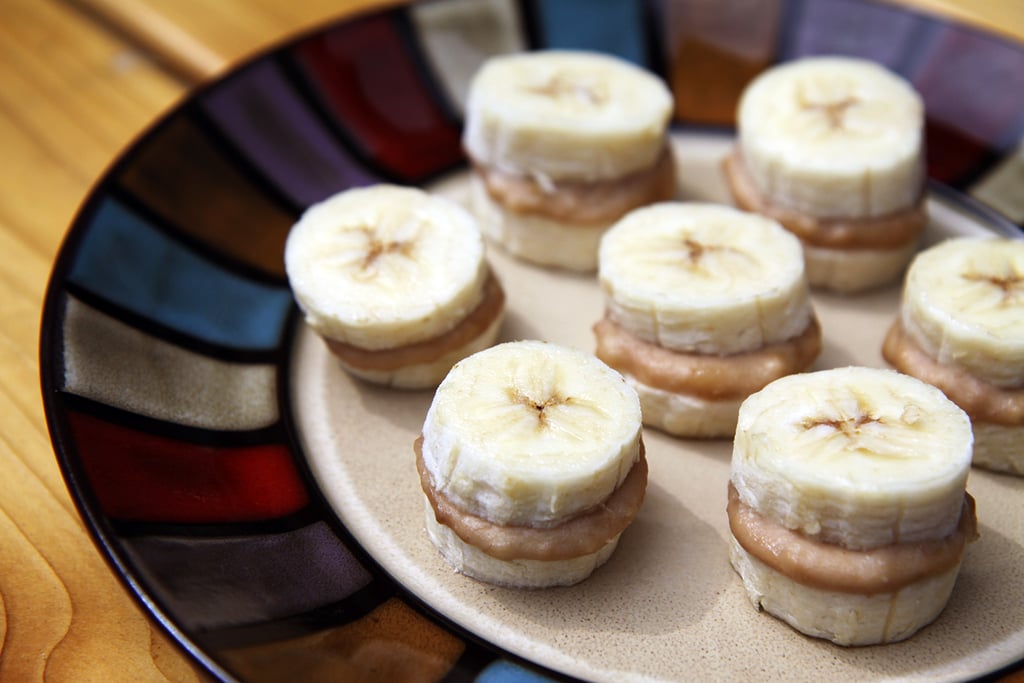 3

 Crispy Roasted Chickpeas
This is a very simple recipe and can be stored for about a week. Collect some grams, peanuts, and green peas. Make sure these are the dried ones that are used in a Bhalle. Moisten these by sprinkling little water over them so that the masala sticks to them thoroughly. Make the masala mix by adding chaat masala, turmeric, salt, red chili powder, amchur, and any other masala of your choice. Sprinkle this masala over the mixture and mix it thoroughly. Roast these on a low flame for about 2 minutes and they are ready to be eaten. Store them in an airtight container.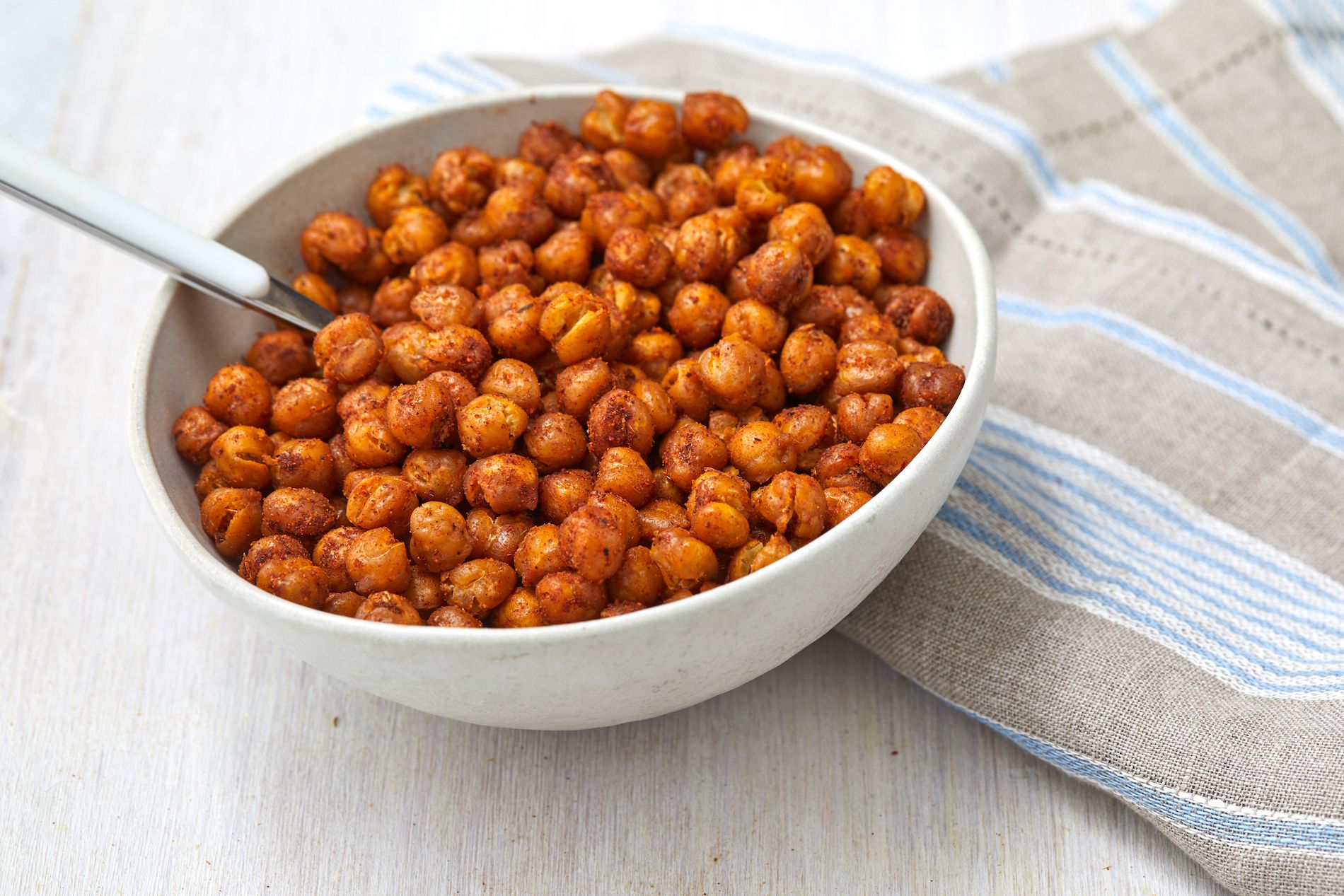 4

Protein Bars
There are various protein bars available in the market. But if you ever feel like making your own protein bar, you can try this recipe. In a bowl combine dry fruits such as almonds, pistachio, cashew nuts, til seeds, and sesame seeds. Roughly chop the dry fruits. You can add dried fruits such as cranberry apricots, figs, whatever you choose from your preferences. For flavor, you can mix in some cardamom powder. Make sure all these ingredients are roughly chopped. Heat a pan, add half a tablespoon of ghee and the jaggery and allow it to melt. Once the jaggery has melted, add in all your dry ingredients and give them a stir until the jaggery has sufficiently covered all the dry fruits. Allow it to cool for some time till it is cold enough to handle. Now with your hand shape them into your desired shape and store them in an airtight container. This recipe can be stored for about 5 days.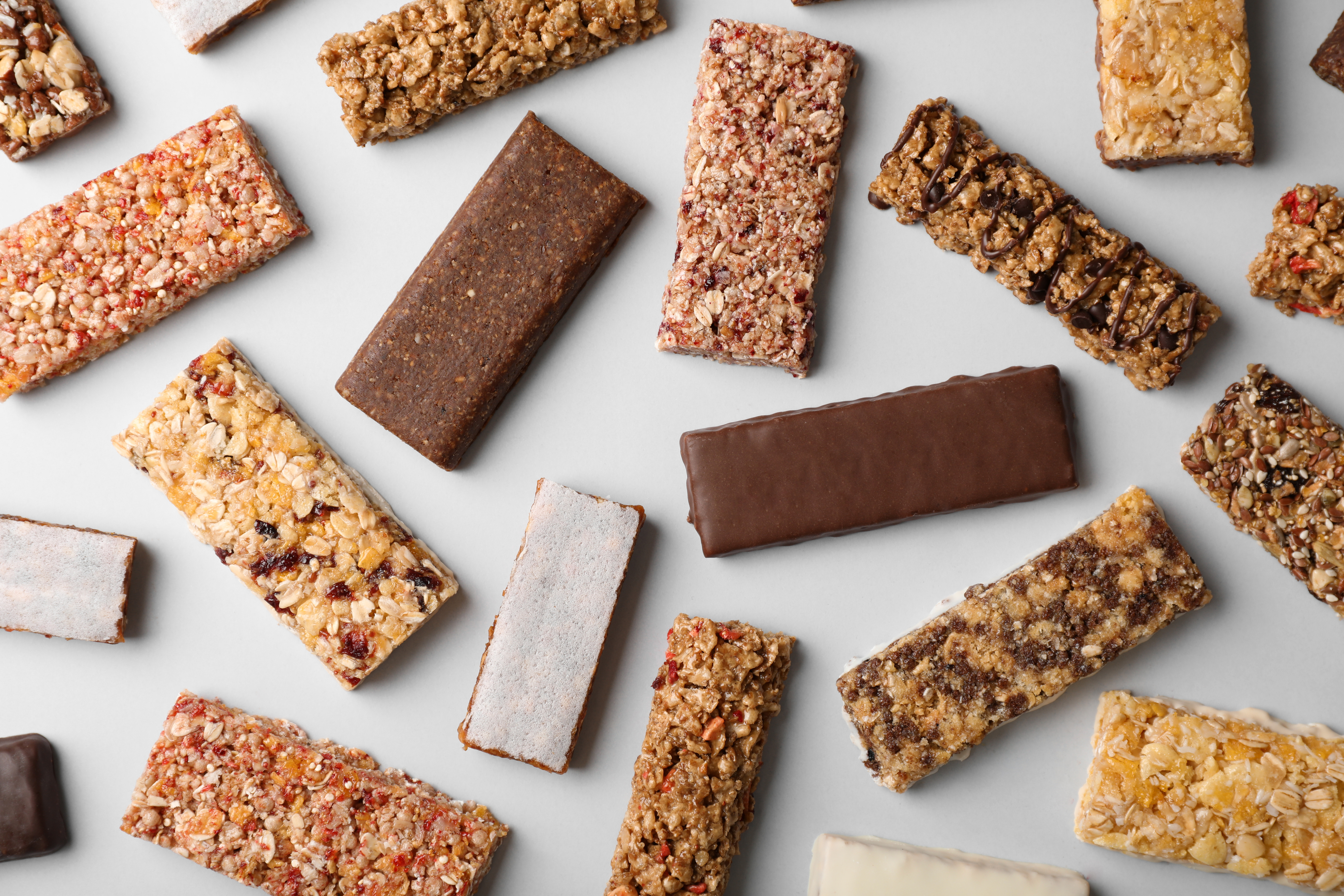 5

 Oats Idli
Mix some crushed oats in a store-bought idli mix or homemade idli batter as per preference. Add in some vegetables, turmeric, and mix the batter well. Pour it into an idli mold and prepare soft and fluffy idlis. These idlis can be a delicious mid-morning snack or breakfast and can be easily carried in your lunchbox. They taste best with coconut chutney, tomato garlic chutney, gunpowder chutney, or sambar.
6

  Sprouted Beans Salad
This is a simple yet very nourishing recipe. Sprout some moong, matki, chana, or whatever sprouts you like. Mix them in a bowl and add some finely chopped vegetables such as onions, tomatoes, carrot, radish, capsicum, green chillies, and coriander. Add salt, pepper and lemon juice. If you ever wish to have a cheat day, you can sprinkle some aloo bhujia over this salad and enjoy your lip smacking, protein-rich, and nourishing snack.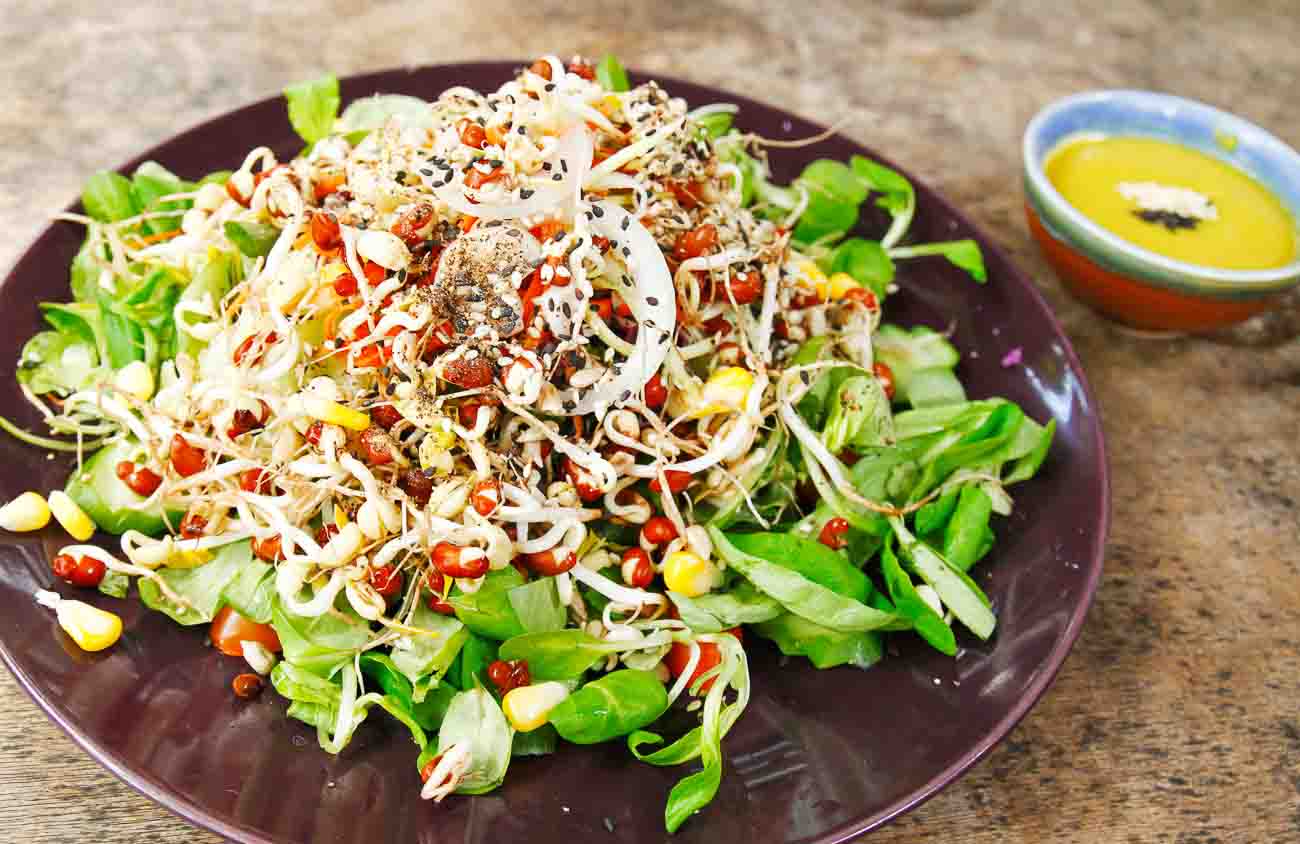 7

 Dal Bafauri
Take some chana dal, green moong, rajma, toor dal and soak them for two hours. After soaking put all these in a blender, add ginger, chilli, coriander, ajwain, salt, turmeric. Blend this into a fine paste and add some baking soda and baking powder and give it a mix. Cook this using an appam or idli pan. Serve it with spicy green chutney or ketchup and enjoy your protein-rich tea time snack.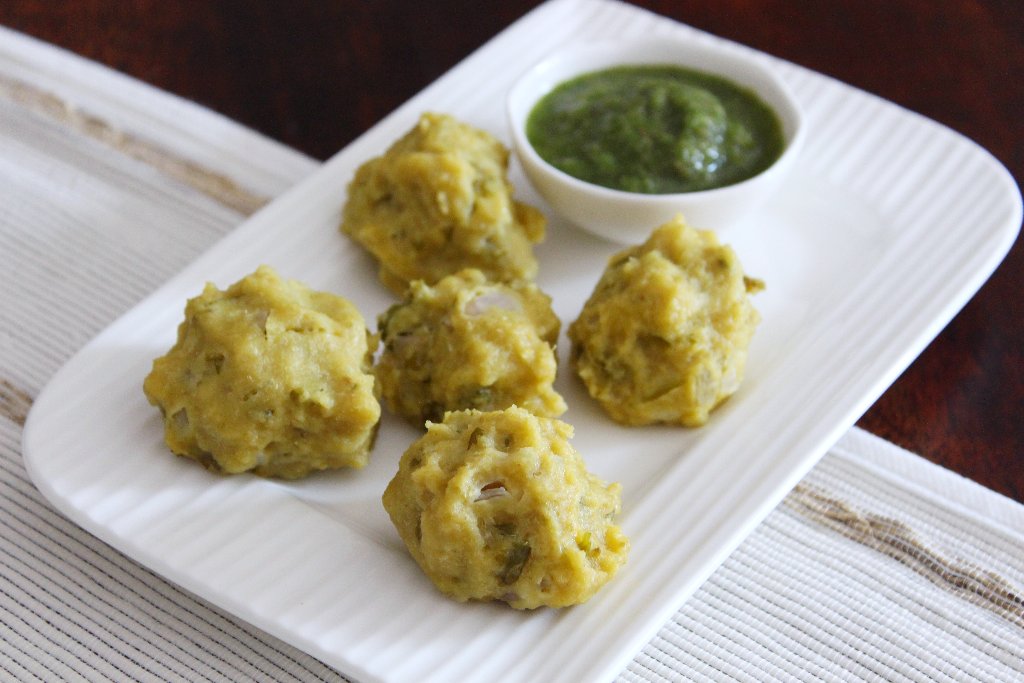 8

Peanut Bowl
In a bowl, mix up together some finely chopped cucumber, onion, carrot, comment tomato, comment capsicum, radish, green chillies, coriander, mint leaves, and green onion leaves. Add your favorite spices along with lemon juice and give it a stir. To make it even more delicious you can add some crushed khakhra, sev or aloo bhujia. Roast some peanuts and roughly chop them. You can also add boiled peanuts. Add them to this salad and enjoy!. You can also add boiled peanuts.
9

 Besan Frankie
This is a unique and very high protein recipe. In a bowl mix some basin with turmeric, chilli powder, ajwain, salt, and hing. Add some water and mix this mixture very well. Meanwhile prepare some green chutney, tomato ketchup and some salads such as grated carrot, cabbage, onions, beetroot, and tomatoes. Y you can also add sprouts according to your choice. Heat or Ta tava and spread the basin mixture evenly like a dosa. When it is about to get be cooked apply green chutney and tomato ketchup over it and add the vegetables of your choice. You can add paneer or cheese as per your preferences. Roll this Frankie and enjoy it when it is hot.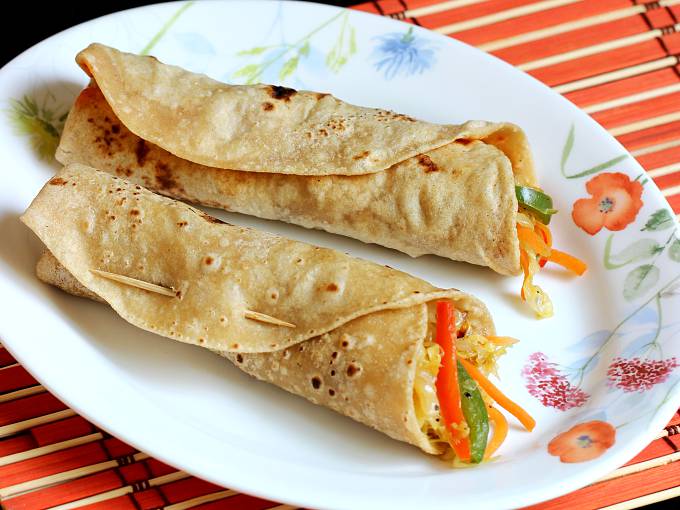 10 Chhole Khakra Chaat
Soak some chhola chana overnight and, cook them in a pressure cooker until they are soft. Take a big bowl and add the chhola chana, along with your favorite vegetables such as finely chopped tomato, capsicum, cucumber, carrot, radish, green chilies, coriander, salt, pepper and whatever seasoning you prefer. Mix this well and garnish it with pieces of khakhra to give it a nice crunch. This dish will keep you full for a longer time and is also is a perfect evening snack.
11

Sauteed Broccoli
Chop some broccoli roughly and blanch it in boiling water for about 10 minutes. In another pan heat some butter oil or ghee and the broccoli along with some garlic and some green chilies and give it a nice mix. Cook it for about two minutes and take it off the stove. You can add some cheese or just lemon and green chilies to garnish it and your sautéed broccoli is ready.
12

No Bread Pizza
Chop onions, tomatoes, capsicum, green chilies, and any other vegetable of your choice along with some green chilies and coriander. Take a khakhra of your choice, preferably plain khakhra and apply a generous layer of your favorite sauce onto it. Fill it up with your choice of vegetables and add some or even paneer if you like. Garnish this with grated cheese, basil organic, chili flakes, or any seasoning of your choice. Microwave this for about one minute for the cheese to melt and enjoy your no bread pizza. If you do not have a microwave you can do this on a pan or tava on a very low flame. Make sure you cover the khakhra with a lid or a plate and don't cook it for more than one minute.
13 Soya Manchurian
Soak some soya chunks in water until they are soft. In a mixer add chili garlic and ginger and blend into a fine paste. Chop some capsicum onions, green chilies and keep them separate. In a pan add oil and heats it thoroughly. Once the oil is hot enough, add the green chili, ginger and garlic paste. Let it fry for about half a minute and then add some vegetables such as onions capsicum, green chilies, carrot, and French beans. Add some the Chinese sauces according to your taste and preference and finally add in your soya chunks and toss it in the mixture for about half a minute. Your protein-rich Chinese snack is ready.
14

Paneer Bhurji
A simple paneer bhurji can sometimes become the right snack or the nourishing meal you require for your day. Scramble up some paneer. Finely chop some onions, tomatoes, capsicum, green chilies, and coriander. Heat oil in a pan, add jeera, green chilies, onions, capsicum, and tomatoes and cook this for about 2 minutes. Then add salt, turmeric, and chili powder and allow the whole mixture to cook for one minute. Once the vegetables are softened, add in your scrambled paneer and give it a mix. You can eat this with multigrain bread or jowar-bajra roti, making it a nourishing and filling meal. This recipe can also be made with scrambled eggs as well and it is equally nourishing and filling.
15

 Chicken Lettuce Roll
Cut some chicken into small pieces and cook it in butter. Add your favorite
spices and allow it to cook completely. While that is cooking, take a lettuce leaf and, generously coat it with mayonnaise. Add in your cooked chicken pieces along with some grated vegetables and seasoning for the extra flavour. Roll it up and enjoy your protein-rich chicken lettuce roll.
16

 Hummus And Grilled Vegetables
Hummus is a Lebanese protein-rich dip which has the ability to easily fill the stomach and. It even keeps you full for a longer time. Soak some chickpeas overnight,, boil them and grind this into a paste. Add in some garlic, oil, lemon juice, cumin (jeera), and chili powder and give it a nice stir. Your hummus is ready! It can be used as a dip and is being eaten with some sliced carrots, cucumbers, breadsticks etc.
17

 Falafel
Falafel is another delicious Lebanese dish best eaten with hummus. Soak some chickpeas overnight. Put them into a blender, add a lot of garlic, green chilies, and a generous amount of coriander, some salt, and blend it thoroughly. Add some baking soda and baking powder to this batter and fry it in the shape of balls. You can shallow fry them using an appam pan or fry it flat.
18

Dalia
In a pan, heat some oil, green chilies, chopped vegetables, turmeric, chili
powder, and salt and cook it for two minutes. Add dalia and roast for 1 minute.
Add hot water as required and let it cook. You can try different cooking methods. Dalia is rich in dietary fiber and protein. In addition to providing a dose of energy in the morning, it can also help with long- term weight control. Eating a plate of dahlias every day helps to lose weight. Dalia can keep you full for a long time. Its caloric content is also very low.
19
Poha
Poha is one of the most popular breakfast options in the country and it has it all; it is very light on the stomach, but it is enough to keep the hunger pangs at bay for hours. In addition, it is also rich in carbohydrates, protein, fiber, and fat. Adding some peanuts to it increases the protein content.
20

 Eggs
Eggs are one of the richest sources of protein. Breakfast with eggs can significantly increase the feeling of fullness and reduce the desire to eat lunch, thereby preventing appetite and overeating. There are multiple recipes available online to learn how to cook eggs. One of the simplest recipes is Anda Paratha. When preparing Anda paratha, be sure not to fry your paratha with inferior refined frying oil. Choose a good
vegetable oil to ensure that your weight loss goals will not be hindered.